Složićemo se da je kupatilo druga po redu prostorija koja se najčešće koristi u svakom domaćinstvu. Upravo učestala upotreba kupatilskih elemenata dovodi do toga da se isti brže pohabaju i stoga ih je potrebno zameniti ili u najboljem slučaju renovirati kupatilo kako bi nam ostalo funkcionalno. Renoviranje kupatila ponekad predstavlja pravi izazov ali nažalost iziskuje i dosta novca. Međutim ponekad i sa sitnim promenama možete doprineti novom izgledu kupatila. Kupatilo je mesto gde želimo da se osećamo prijatno, uostalom to je mesto gde započinjemo ali i završavamo svoj dan pa bi bilo lepo i da ga uredimo onako kako nama najviše odgovara. Donosimo vam par saveta na koje treba da obratite pažnju ukoliko ste rešili da svoje kupatilo renovirate.
Kvalitet na prvom mestu
Jako bitna stvar jeste sam kvalitet opreme za kupatilo koje treba biti odlična upravo zbog toga što će stajati godinama u kupatilu i samim tim mora biti izdržljiva. Ne želimo da dođemo u situaciju da posle godinu dana korišćenja određenih stvari moramo da ponovo kupujemo i menjamo postojeće. Međutim savet je da prilikom renoviranja uvek prvo obratite pažnju na kvalitet cevi, pločica i pratećeg materijala poput pločica pa tek onda opreme. Složićemo se uvek je lakše i brže zameniti jednu dotrajalu tuš kabinu nego pločice ili loše cevi.
Odabir boja
Potrudite se da imate najviše dve boje u svom kupatilu. Izbegnite korišćenje više boja jer kupatilo samo po sebi jeste prostorija koja treba da bude uvek čistog, jednostavnog i svežeg izgleda. Najbolje je da to budu svetle boje koje će doprineti smirenosti i miru koje vam upravo trebaju posle napornog radnog dana.
Odabir tuš kabine
Sve popularnije u poslednje vreme jesu staklene tuš kabine. One imaju nekoliko prednosti. Ukoliko imate malo kupatilo staklene tuš kabine su idealno rešenje jer vizualno otvaraju prostor. Klasično providno staklo je najbolji izbor kada su tuš kabine u pitanju jer time još sa ulaza u prostor vidite drugi kraj kupatla i time stvarate iluziju većeg prostora. 
Staklene tuš kabine po meri se danas takođe mogu pronaći na tržštu. Praktičnost i funkcionalnost je pozitivna strana ovih tuš kabina a osim toga su i atraktivnog izgleda. Dostupni su razni modeli, pa tako pored klasičnog providnog stakla možete pronaći i matirano koje je takođe lako za održavanje.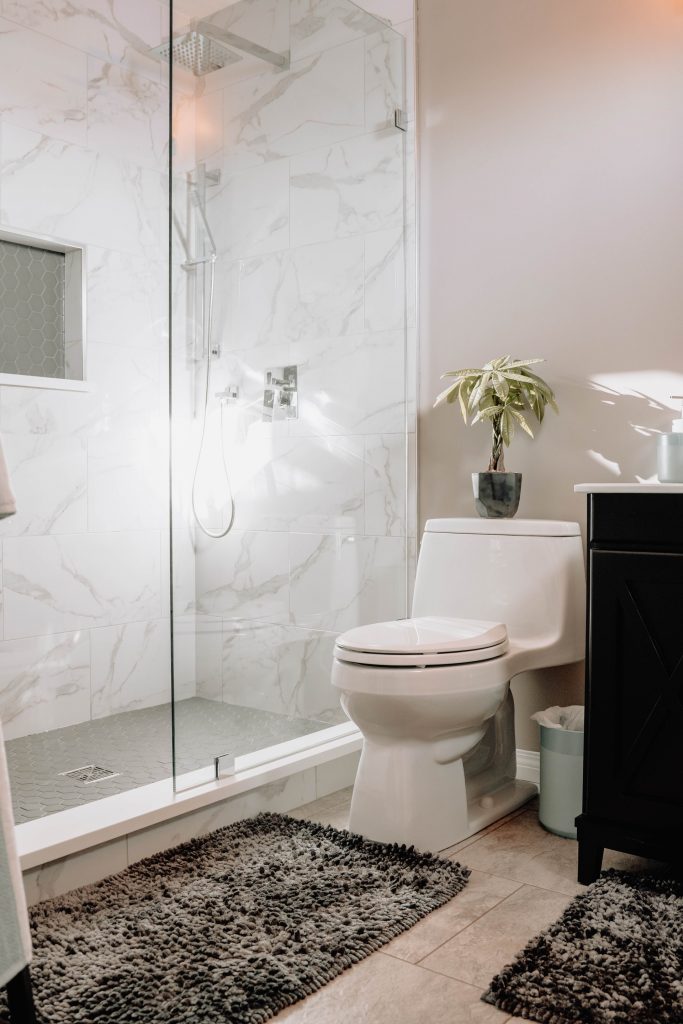 Dobra rasveta
Kvalitetna rasveta može dosta doprineti izgedu kupatila. Bitno je samo da dobro razmislite o mestu njegove postavke. Što je prostorija više osvetljena ona će vizelno izgledati veće. Pored rasvete dobro i veliko ogledalo takođe može napraviti iluziju većeg prostora a i učiniće kupatilo modernijim.
Odabir detalja
Nakon krupnijih radova ide i onaj najzanimljiviji, dekorativan deo. Detalji ponekad mogu doprineti velikoj promeni izgleda kupatila a to je nabolje postići ubacivanjem različitih detalja. Ponekad dekorativne sveće i svećnjaci u kupatilu mogu sjajno izgledati. Takođe možete nabaviti drvene korpe jer jako lepo izgledaju, kao i zanimljive držače za toalet papir ili peškire. Zasigurno ćete oplemeniti čitav prostor i učiniti isti zanimljivijim.